Show and Tell - Photo Page
Compiled by Rachael Woodard, Quilted Twin #1
It all started when…
We decided to open Quilted Twins to the public! We now have a spot to SHOW AND TELL about the beautiful quilts(and other things) that you all are making with our fabrics!
3.1.18 -- Annette Knecht was the first to bring us something made from our fabrics. She brought each of us ladies a fabulous neck wrap that she had made with our fabrics! Annette had gained entrance to our Quilted Twins quarters back at the end of December, and we were thrilled to see the beautiful products that she had made. In the Wrap shown here, Annette used our Beautiful splish splash fabric. The one she used is sold here
3.1.18 -- Linda Brandon and Treva Lawter brought in this stunning batik top which they handcrafted right after the first day we opened, when they had purchased about 20 different batik fabrics. I must credit Linda Brandon with being one of the two masterminds who encouraged me to take this business from being just a 24/7 online store exclusively to opening 1 day a week! With her continual encouragement, we decided to do it, and we haven't stopped looking back yet!
Linda, on the right, and Treva, on the left, made this "in a day." I think it's stunning!
4.26.18 -- Treva Lawter hounded us for beautiful floral panels that she could cut up and make into a smashingly gorgeous quilt. She came back a couple of weeks in a row, waiting patiently for us to locate our panels, which we had put away into hiding. I had no idea that they'd be popular. I also had no idea it would be THIS stunning! She also used our black and white garden to surround the panel. Sorry, ladies, but we only had the panels that she needed for this project, and none left over. But, we do get gorgeous things in regularly -- almost daily! Treva said that all of the fabrics in this quilt are QuiltedTwins.com fabrics! Black and white garden is sold here.
4.28.18 -- Helen L. Bisaillon
Helen used 100% QuiltedTwins.com fabrics!
I was thrilled to see someone using this color combination.
Helen brought in her own pattern, but it looks very similar to Becky's Pastel Rails..
I didn't think quickly enough to record which fabrics Helen used, but if you would like to copy this one, I'm sure she'd consider imitation as the highest form of flattery and we could look up these fabrics, if we had them still. (Or some that were similar). The pattern that Becky made which is quite similar is here called Pastel Rails.
On 5.3.18 Jodie McGuffie brought in her beautiful quilt made with two of our fabrics!
Also on 5.10.18 Estelle brought in the beginning part of her beautiful bargello fabrics featuring our lovely Swirling Marbling Blenders! She bought the half yard pack here at the Dade City fabric warehouse, but you can get it here:
5.17.18.. Pam Astin brought in a block to show us the beautiful job she is doing with our fabrics! She used our variegated branches fabrics in this beautiful block. Get those ordered here
5.17.18.. Jodi McGuffie was back with her unicorn quilt. She had purchased the panel elsewhere, but surrounded it with some beautiful fabrics, most of whicht least which she purchased from us here at QuiltedTwins.com. Variegated Branches in rosy pink, fuchsia and then Splish Splash in purple as well as the purple branches in the Woods fabrics. It's simply gorgeous. She tied it and brought in the finished quilt! Whimsical and beautiful at the same time.
5.31.18... Margaret Beaumont came in and bought this gorgeous faded flowers fabric. She made herself some really pretty kitchen curtains with it!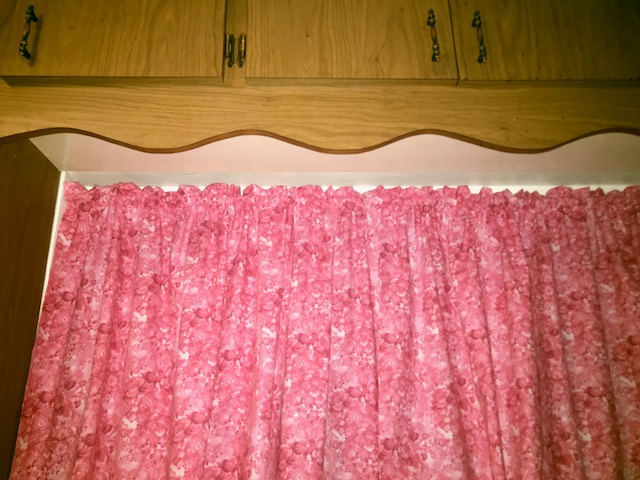 Maggie came into the store and had us cut her fabric to the right size and went home and got her new kitchen curtains up right away!
9.28.18 Jeanette Delport from Zimbabwe sent us pictures of a chair she covered with fabric. She ordered it and the package got handed from person to person - from FL to Missouri, to England and finally Zimbabwe. She covered this chair with it! Isn't it fantastic?