"Country Links" complete set
The building shown above is the company that this set, shown below, was made for.
I addressed this before, but in short, my sis and her husband are members of a Farm Bureau which, among other things, sells insurance. We were part of their membership dinner where they voted on the business of the farm bureau. They gave away quite a few door prizes and it seemed to be the highlight of the evening. Last year they gave away such things as plants chain saws and things as small as hats and gardening tools.
I asked my sis if we could donate a quilt. She checked and it was fine, as long as it was farm themed. In fact, they seemed quite excited about the possibility.
So, I made a queen size quilt, 2 decorator pillow and 2 pillowcases. I will buy 2 pillow forms, but I'll let the winner provide their own pillows. This way we should be able to get some serious advertising in our community out of it!
Hopefully, one of their good customers will win it in a drawing in October of 2019 in Dade City, FL.
I've talked about this set a couple of times - but here it is - all finished. 100% done.
I made some pillowcases which I was very pleased with, but after discussing pillowcases on the Facebook group and realizing that that flange will not stay flat well after washing, I decided to take the advice of one of the ladies and sew it flat so it can't wrinkle and need ironing later. I also top stitched just above the flange and again at the top of the "cuff". This should keep the top of the pillowcase looking as nice as it does now as it won't be able to "move" out of position.
The "big deal" here is the label. It took about an hour and a half for my machine to stitch it out, plus some time to sew it on the back.
I thought I'd show you step by step how I did it in the set of photos below.
I used a blanket stitch to sew it on around the edges. I tried to not show the stitches, but I can see that I didn't work hard enough at it to make them truly invisible. But it's good enough.
I couldn't find my thimble…and it's hard for me to stitch anymore without it. I guess it kinda shows how much hand sewing I'm (not) doing these days!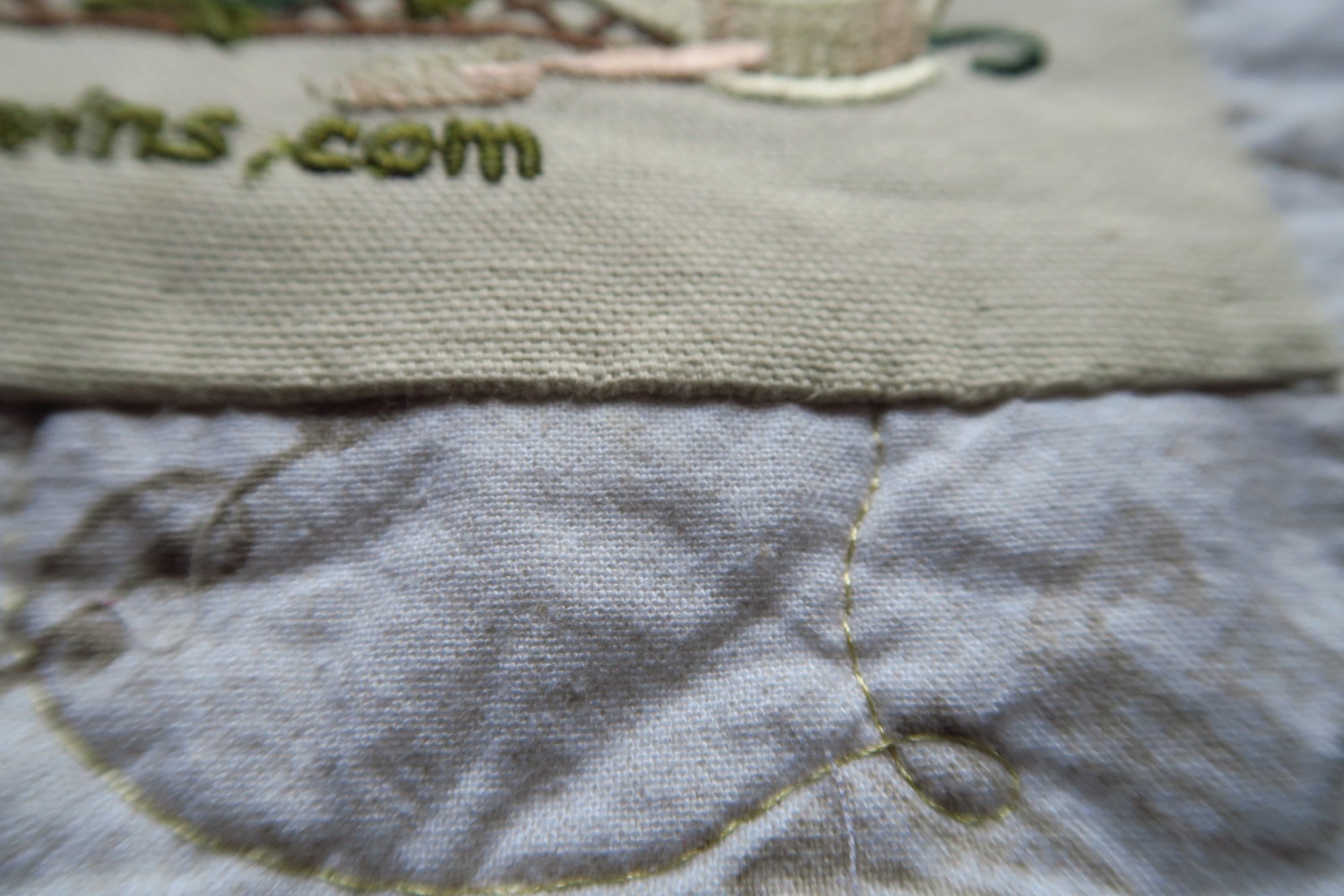 I'm actually pretty proud of the label! I hope whoever wins this will like it as well! I know that normally you are supposed to say who the quilt is for on it, but since I have no idea who will win it, well, I couldn't do that, could I?
And that's it.
I'm hoping come October that my sis will be able to get a picture of the winner with her (?) quilt so we can follow it to its new owner! (October is when the dinner and drawing will be.)
Have a great day wherever you are reading this!
Be sure to check out what my sis has for you in the store!